Running a business requires determination and a lot of hard work with effective planning and strategies. Doing everything alone doesn't seem like an effective approach.
Then, what to do?
Operating a business requires marketing activities and to market your business online, you can take the help of digital marketing agencies. Marketing is an integral part of the business to reach a potential customer base and create a relationship with them.
The agencies use a range of digitally focused marketing tactics to scale your business and enhance its visibility online. As per a survey, it was found that more than 30% of adults in America are online constantly. It means you can enhance your reach and discoverability over the internet.
You can look beyond traditional marketing strategies to reach the right audience. If you are looking to do everything on your own, you will find this concept very complex. Meanwhile, you should take the help of a digital marketing agency.
Today in this article, you will get a lot of things to learn about what you can expect from digital agencies and also their work process.
What is Digital Marketing?
Digital Marketing is a multi-faced strategy, which aims to build relationships with customers via different ranges of channels. Ultimately, the goal is to bring customers to your business and let them make purchases now and in the future also.
Digital Marketing enhances the presence of your business online and helps in promoting your brand. With some effective Digital marketing strategies, users can bring quality leads that can be easily converted into sales.
The results of Digital Marketing are stunning and dramatic. The report shows that 67% of leads are getting only from blogs, which is unbelievable. While SEO boasts a conversion rate of around 15%, which is far better than traditional ways of getting outbound leads.
The traditional form of business is not going to work anymore in the upcoming years. Your customers are online and serving them digitally will be the future of the business world. However, doing it alone requires susceptible efforts, that's why Digital Agencies are there for you. Let us know what Digital Marketing Agency does.
What does a Digital Marketing Agency do?
Companies and businesses have to work with Digital Marketing Agencies because of their expertise in this industry, which will give significant benefits to get the most out of the fruitful opportunities.
These agencies are updated with the latest market trends, tools availability, and best practices to enhance the reach of business globally while bringing some amazing results. Let's have a better understanding of why digital marketing agencies do.
Brings Organic Traffic to your website
The overall motive of a digital marketing agency is to bring quality traffic to your website. Direct referral and social media traffic are very important but getting organic traffic builds the authenticity of your business because customers are coming to you directly.
Here, digital agencies are updated with inbound marketing and relevant strategies that could bring organic traffic to your website at a cheaper cost. They will work on improving the authority of the website, which directly impacts better ranking on Google SERP. They bring quality leads that will increase the probability of making a purchase.
Manage Marketing Campaigns
The Digital Agency you are hiring will do everything to market your business. Ultimately, the main aim is to bring more sales and it could be possible only with some affirmative marketing strategies.
When you will work with an agency, it means you are working with the whole team who are experts in their work. They will run marketing campaigns and go with proper analysis to bring sustainable growth to the business.
Also, they will take timely action from their experience and will provide you necessary insights to attain or maximize profits.
Expand Brand Reach
Brand value is one of the essential factors in any business and digital agencies can provide you with some value to your business that you deserve.
They go with regular posting on social media to enhance your presence in the market and create relationships with customers. They have the tactics as per the buyer's persona and develop modules of a business to increase brand reach.
Increase overall revenue
As the digital landscape continues to evolve, digital marketing agencies must stay ahead of the curve to increase their revenue. With the right strategies and tactics, top marketing agencies can leverage SEO in digital marketing to drive more traffic and lead to their client's websites.
By utilizing the latest tools and technologies, these agencies can improve their clients' search engine rankings and visibility, resulting in increased web traffic and higher conversion rates. Additionally, by focusing on targeted keywords and optimizing content for search engines, these agencies can ensure that their clients are reaching the right audiences with relevant messages.
With an effective SEO strategy in place, digital marketing agencies have a greater chance of increasing their revenue from existing customers as well as gaining new ones.
Is a Digital Marketing Agency the right choice for you?
Before hiring the best marketing agencies, it is quite necessary to assess a company's needs and understand what your company is looking for. Are you looking to make your website visually appealing, looking for a content marketing, or SEO specialist?
Once you get those answers, now just your needs accordingly. You should check whether your team needs in-house service or if everything is outsourced.
You need to make a selection from the top digital marketing companies and compare their plans to get a better deal. There are many internet marketing top marketing companies, but ensure you find the best agency to work with.
Digital Marketing Agency services
A Digital Marketing agency provides several services to its clients. Below, we have mentioned some of the popular Digital Marketing Agency services that will help to meet your business goals.
Website Development
Website Development is the core service that marketing agencies provide and this is the initial step to bringing business online. Website Development includes the creation of web pages that includes all the relevant information about your business such as what products or services you are offering. Also, your contact information so that you can get back to your clients.
The best digital marketing company provides a user-friendly website that makes your business trustworthy and credible. They will make your website mobile-friendly because more than 50% of users are making only purchases with their smartphones.
Search Engine Optimization
Search Engine Optimization is the process of making changes to the content to make it appear in Google Search Engine Results. It involved different techniques to outrank competitors. It starts with keyword research, which could be done with any tool available in the market. Then, the aim is to make the website more visible in search results.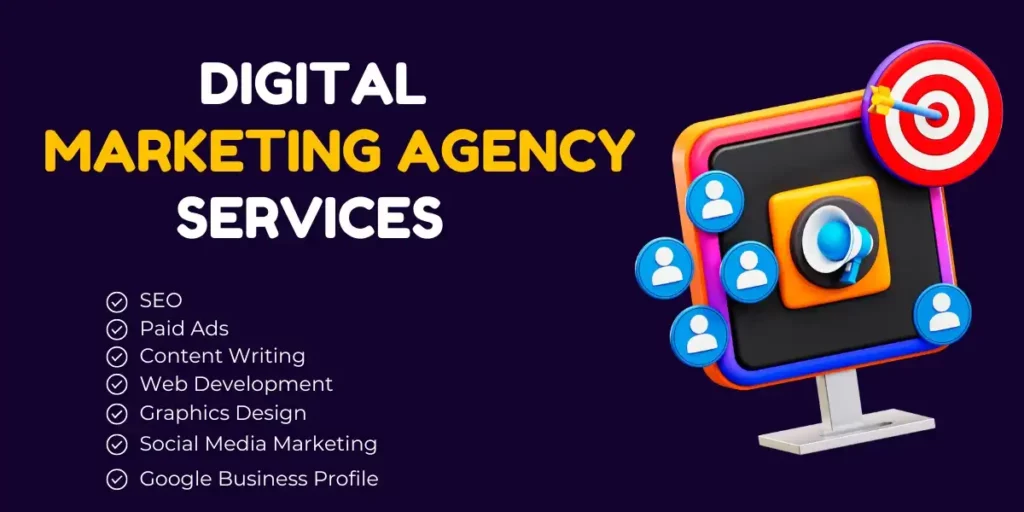 Today, many agencies are providing SEO services so that users can enhance their presence online and outrank competitors by implementing different strategies. The agencies will take care of both the parameters, On-Page SEO and Off-Page SEO. Both of them play a crucial role in rank-deciding factors.
Social Media Marketing
Social Media Marketing has revolutionized the whole era and people are spending a lot of time on social media platforms. Marketers are taking significant advantages by promoting their brands on these platforms.
It is not about promoting the brand, they also create their account to enhance the social presence of their business. Twitter, Instagram, and TikTok are the platforms where people are promoting themselves rather than traditional methods.
However, online marketing companies have to go with a clear strategy to implement them effectively. They need to go with the best time for posting any content and the analytics will give them a complete report for tracking.
Content Marketing
Content Marketing is a strategic approach that will be very helpful to hook the attention of your audience by creating high-quality content. Content should be highly engaging and illustrative that can retain your target audience and the resulting increase in revenue.
The internet marketing service company leverages its resources to create some valuable strategies. Content Marketing involves an in-depth analysis of what's trending in the market because it needs to be valued while producing engaging content.
Google Ads Management
Google Ad Management Services are becoming increasingly popular among businesses looking to maximize their online presence and reach more potential customers. With the help of a Digital Marketing Agency, businesses can manage their campaigns with ease and accuracy, ensuring that they are getting the most out of their ad budget.
From keyword research to copywriting and ad optimization, an experienced Google Ads specialist can help businesses create highly effective campaigns that will give them the best results. With the right strategies in place, businesses can increase their visibility and reach more potential customers without having to spend a fortune on advertising costs.
How to find the best Digital Marketing Agency?
Digital Marketing is shaping our world explicitly and marketers are making the most benefits out of it. Yes, Digital Marketing plays an integral role in the commencement of our business.
If you are unsure of where to start then you can opt for Digital Agencies who will help you by increasing your business visibility while increasing your customer base.
However, many agencies are available in the market, how would you choose the best one? Let me provide you with some important factors that need to be considered to get in touch with the best digital marketing company near me.
Consider your goals
The most important thing you should ask yourself is to know the motive of why you are hiring a digital marketing agency. What's your goal behind this?
Some people hire to increase traffic on their website, some hire to increase their customers, and others hire to generate more leads and enhance their brand awareness.
Whatever your plan is, always make sure that the marketing agency is understanding your goals so that they can deliver better results. Having a clear plan and effective communication will be very helpful to attain the results you are expecting. So find a digital marketing company only after considering your goals.
Check their Portfolio
Another important thing is to check the portfolio of the agency you are choosing for yourself. The portfolio contains brief insights into their previous work and what feedback clients are giving to them.
You will get all the information on their website about work details, you need to check the testimonials and case studies. It will give you an idea of how they are bringing measurable value to their clients.
The portfolio should contain all information, which relates to digital marketing. If they are not familiar with such things, then it is not the company you are looking for.
Cost of Services
Before finalizing any agency, you must analyze the charges they are asking for. You are keen to experience better marketing services but comparing the cost of different digital marketing services should be your priority.
Before embarking into a new relationship, you should ask for the charges they are asking for. Every marketing agency has a price structure, just check and compare them to expect better results. Asking the price can prevent you from future surprises and that's why always prepare for such things.
Reputation
Choosing the right digital marketing agency is an important decision to make for any business. It is essential to ensure that the agency you choose has a good reputation in the industry and can provide you with quality services.
It is important to research how long the agency has been in business, what kind of clients they have worked with, and what kind of results they have achieved for their clients. You should also check online reviews and ask for references from other companies who have used their services before.
By taking these steps, you can ensure that you are making the best choice when it comes to selecting a digital marketing agency. This will help you build trust with your chosen partner and make sure that your business goals are met successfully.
Customer Service
Customer Service is one of the essential factors that you should consider when opting for a digital marketing agency. Responsiveness, a positive attitude, and knowledge are what we expect from the support staff of an agency.
We may need their help in any circumstance and if the agency is responsive, they will provide you with an effective and productive solution to understand your needs. Simply, you couldn't ignore customer support before hiring Digital Marketing Agency services.
Transparency
Transparency is a key factor in deciding which marketing agency you should opt for your company. You can visit their website and ask some basic questions. Their services should be diversified in a versatile manner.
You should expect them to give you clear and concise information. Their team size matters a lot and how they are dealing with customers globally. If their answers are satisfying then you can opt for them or else many options are available in the market.
Conclusion
Digital Marketing Agencies can understand your business goals and attain the Target that you desperately want to achieve. Your business presence is valuable and that's what a marketing agency provides you.
If you are stuck with a limited customer base then don't worry, StarKash can help you by assuring you guaranteed results in a short period.
To enroll in our services, you can contact us anytime. We will understand your planning and provide you with the best solution accordingly. Our services are available at an affordable price with desired results.
FAQs
Q. What is the goal of a digital marketing agency?
Digital Marketing has a goal to enhance the brand reputation of any business, increase high-quality traffic on a website, and generate more leads while following the conversion rate. They aim to outrank competitors with some effective strategies to implement in the market. 
Q. How do marketing agencies charge fees?
The agencies provide a vast array of services and every service has different charges. The most common way of charging fees is a monthly retainer and the charges may vary as per the service client is asking for. 
Q. How does digital marketing help my business grow?
Digital Marketing will help by enhancing your presence in the online market and promoting your brand. Today, people are very active on social media platforms, and digital marketing assures you to derive quality traffic on your website, resulting in an increase in ROI. 
Q. Is it necessary to have an online presence nowadays?
The traditional way of doing business will not work in the future. People will start looking at you online and if you are not online, you will be missing a huge opportunity to interact with the public. You can target the global world if you have an online presence and you don't need to spend a lot of bucks on it. 
Q. Is it cost-effective to spend money on marketing business digitally?
Yes, it is cost-effective because you have the analytics of people who are buying your products or services. Infect, you will have the data of which strategies are working and which are not. On that basis, you can plan further strategies and control your expenses.